Things aren't always what they seem............
Jas Costello arrived in Hollyoaks village on the 2nd August 2010, after attending a summer camp in the United States. On her arrival, her mother Heidi remarks on her appearance refering to the fact that Jas has cut her hair. Her general appearance is that of a tomboy, wearing jeans, t-shirt and loose shirt albeit girl's ones. When Jas is shown her bedroom it's evident that she is not too keen on the decor - it's pink. To add to Jas' discomfort, her Mom has bought her a dress. Later, we see Jas sitting on her bed stating at the dress. She gets up and shoves the dress into her wardrobe.
Jas soon makes it clear that she feels uncomfortable. She tries to talk to her twin Brother Seth about her feelings, but can't find the words. She does however manage to tell him that she wants to move to the local school as she doesn't feel comfortable at the public school that she attends.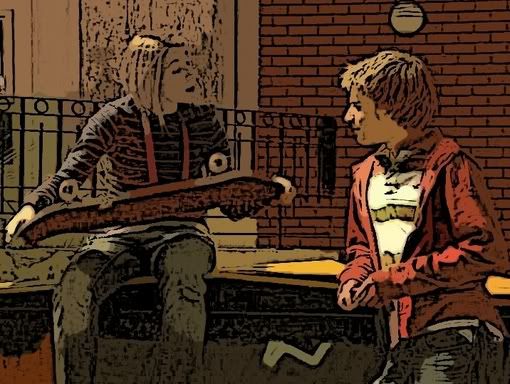 We soon see Jas being introduced to Bart McQueen when she goes with her Mom to the local beauty salon. Jas doesn't seem that impressed with Bart to begin with, but soon she agrees to go out with him - she even wears a dress. Her Dad doesn't want Jas to have any boyfriends and is having none of it, as far as Carl is concerned, Jas is his 'Little Princess' and he wants to keep it that way. After arguing with her Dad, Jas goes to her room. The next thing we see is Jas climbing out of the window with a bag. Jas goes to 'the shack' where she rips off the dress.
A group of boys are spray painting a wall with graffiti. Another lad approaches them and joins in. Suddenly, Carl shouts at the boys and they run in different directions and the one lad falls down. His beanie hat falls off to reveal Jas (a.k.a. Jason).
Jas is not at all comfortable with her body and when we next see her, she is trying to decide what to wear and would much rather put on the boys' clothes. Bart is still persuing Jas...and she isn't that interested - yet.
Then we had the small matter of Jas' 'Jason' boxer shorts being discovered.
With Carl banning Jas from having any boyfriends, Jas decides to invite Bart around to the pub in order to wind her Dad up. Jas kisses Bart right in front of her Dad and Carl 'hits the roof'. Jas even squeezes one of Bart's bum cheeks. This provokes Carl and he blows his top, pressing Bart up against the fruit machine.

Jason is in the shack, when there is a knock at the door.
It's Mark and the group of lads that he hangs around with. Jason is invited to a party as part of his initiation into the group. When they arrive, Jason discovers that it is the McQueens' home and Bart is there. Terrified that Bart will recognise him as Jas, Jason sneaks upstairs to a bedroom, only to be followed by Anita Roy who has taken a shine to him. Then Duncan Button, another Hollyoaks High student enters the room and asks who Jason is. Jason introduces himself and they end up playing 'spin the bottle'. The bottle stops and is facing him. Jason doesn't want to kiss Anita, at which point Duncan moves in. Anita then goes to kiss Jason, who uses this as an opportunity to retrieve his mobile phone from the bed without being noticed.
Jason and Anita sit chatting until Bart comes bursting into the room angry that Jason's 'mates' have trashed the house. Anita tries to explain that Jason had nothing to do with it. At the same time, Jason is trying to shield his identity from Bart as he throws Jason out. Later, Anita catches up with Jason in the skate park and kisses him again.
The next day at school, Jasmine bumps into Anita. Anita asks Jasmine if she knows her (as she thinks she recognises Jas). Then she asks Jas if she knows Jason and goes on about how much she fancies him. Jas tries to put Anita off by telling her that Jason is a bit of an idiot and that she should stear clear of him. Anita gets 'Jason's' phone number from Mark and she calls it. Jas' phone rings. Anita runs over to Jas and she wrestles the phone from her. It then occurs to Anita that Jas is Jason.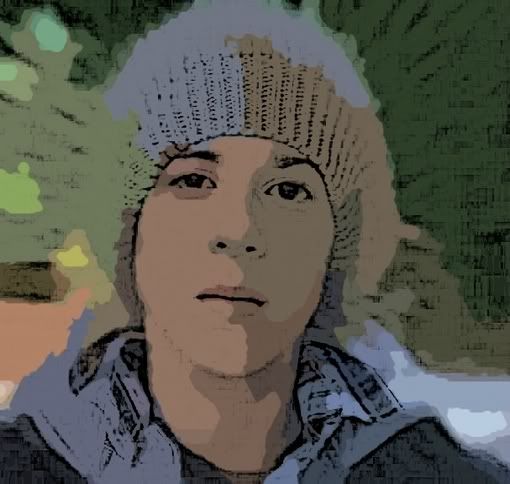 The next time Jas and Anita bump into each other nothing is said, there is just an awkward silence. Later that day, Jas goes to find Anita and asks to talk to her privately. Jas explains the whole situation to Anita and tells her that she is the first person that she has told her secret to. By the end of the conversation, Anita promises to keep Jas' secret and the two are friends.

Anita bumps into Jas in the corridor at school and says that if she ever needs a friend to talk to about this that she can talk to her and gives Jas her phone number, again Anita promises to keep the secret quiet.
Jas' parents buy her a new dress. Which receives the usual response from Jas, that she doesn't like dresses. Jas bolts up to her room in disgust and escapes through the bedroom window. Jas heads for Bart's house. Once there, Bart tries to make a move on Jas. Jas says to Bart that she just wanted to get away from her parents for a while. The two end up cuddling on the sofa.

Jas argues with Bart over his treatment of his family. Bart tells Jas that she is lucky to have parents who care. Jas responds that she wishes she could be like Bart and do what she wants. By this time, Jas has started to give in to Bart and agrees to go out with him. Jas and Bart are holding hands when Heidi arrives in her car to collect Jas from school. Bart asks Jas if she is ashamed of him. Jas tells Bart that he is better off keeping away from her parents. Later, we see Heidi having a chat to Jas about safe sex. This just has the affect of embarrassing Jas.

Jas and Bart are bunking off school together. They go back to Bart's place and the two start to kiss. Jas stops as she just doesn't feel entirely comfortable, even though she is obviously attracted to Bart. Jas leaves. Later, we see Bart texting Jas (who has changed into Jason) and Jason ignores the text.

The next we see Jas, she is trying to get away from Fern who catches up with her. Fern causes Jas' mobile phone to be confiscated by a teacher.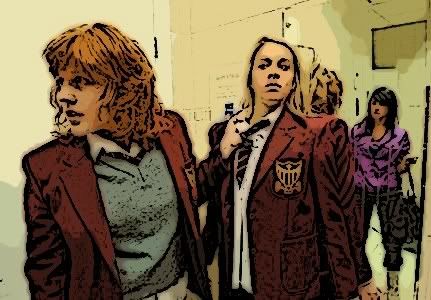 Later, Jas meets up with Anita. When Fern comes in. Jas points out to Anita that Fern is the one who has been bullying her. Bart, who is also there, confronts Fern but she refuses to leave. As Anita works there, she orders Fern to leave.

Later, Jas, Anita and Bart are walking and chatting. Bart has to leave, this gives Jas and Anita the chance to talk about Jason. Anita asks Jas if Jason will be doing anything that night, to which Jas replies 'Yes'. Anita then tells Jas that she had been reading about Transgender on the internet and tells Jas that according to the article she read some people have the surgery and then change their mind. Jas goes on to say that she was pretty sure that she wanted the surgery. Anita remarks that Jas would have to tell her parents.....and Bart. Jas tells Anita that Bart probably wouldn't be ok with it.

Later, we see Anita and Jason, as Jason is heading off for a night out with his mates. Anita calls out to him, and makes the mistake of saying 'See you later Jasmine...sorry - Jason'. The two were not alone, they were overheard by Fern.

Next...................Hollyoaks Later